BTS: Kim Taehyung/V gets compared to Leonardo DiCaprio from The Great Gatsby, Titanic and Vincenzo after his short cameo in buddy Peakboy's new single Gyopo Hairstyle
BTS: V/Kim Taehyung's cameo in Peakboy's Gyopo Hairstyle has made fans compared him with the likes of Leonardo DiCaprio from The Great Gatsby and Song Joong-Ki's Vincenzo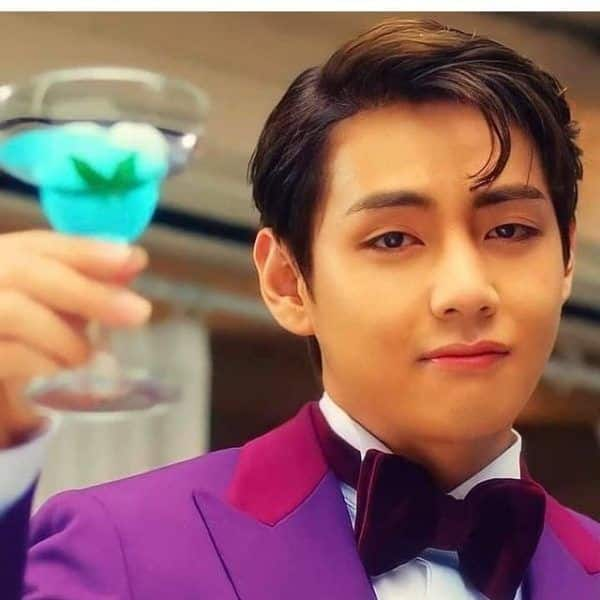 BTS V did a cute cameo in singer-actor Peakboy's new single Gyopo Hairstyle. The song is a peppy number, and V stole the show as a waiter. Dressed in a purple suit with a big bow tie, his expressions were adorable. We can see him raising a toast with a blue drink in a martini glass. Fans were instantly reminded of Leonardo Di Caprio from The Great Gatsby and Titanic. They have also shared many collages on the same. ARMY also remembered how Kim Taehyung once said that he wanted to be a waiter. They have shared videos of the time when he ended up pronouncing DiCaprio as RiCaprio in a live with all the BTS members. Take a look at these edits...
Love his DiCaprio vibe. Hope one day will see actor Kim Taehyung in drama or movie # #BTSV #Taehyung #KimTaehyung @BTS_twt https://t.co/iVB2wsP2jg

Boo (@booscenery) July 25, 2021
Taehyung doing the iconic

DiCaprio??#TAEHYUNG #GYOPOHAIRSTYLEOutNow #BTSV pic.twitter.com/ZNNk8rF05z

wafa PTDeyaa?? (@wafa10army) July 25, 2021
Kim Taehyung DiCaprio ?

Oscar

Grammy

Golden Globe

Sag

My little ? deserves it all?#V #BTSV #TAEHYUNG # #BTS pic.twitter.com/zoHUSt1LNK

Taehyung Big Toe ?? (@taeisabsolute) July 25, 2021
Kim Taehyung (V)?is like Leonardo Dicaprio in a glass toast???Our Tae tae is very handsome in waiter outfit?? @bts_bighit @BTS_twt

from-Peakboy GYOPO HAIRSTYLE#TAEHYUNG #KimTaehyung #BTSV #BTS pic.twitter.com/e2PHnzyZYr

Yonaaa (@allyballyyybee) July 25, 2021
Kim Taehyung x Leonardo DiCaprio ???#BTSV #LeonardoDiCaprio #Peakboy https://t.co/G8BIikMivy

?????? (@ysh081793) July 25, 2021
KIM TAEHYUNG and another of his "Young Leonardo DiCaprio" eras.

His classic beauty is untouchable. # #TAEHYUNG # #BTSV @BTS_twt pic.twitter.com/Z6752yQlKo

USA ?? (@V_USA) June 30, 2021
Taehyung vs Vincenzo ??#KimTaehyung #TAEHYUNG # #BTSV #V # # V #Taetae #GYOPOHAIRSTYLE #Peakboy pic.twitter.com/VHxMHx9GRw

RJ. ? (@Indahsariii08) July 25, 2021
Kim Taehyung aka V has acted with Peakboy in the TV series Hwarang: The Poet Warrior Youth. Since then, he is close friends with the Wooga Squad. The video has crossed one million views in record time. Kim Taehyung was also seen at the Wooga Squad reunion that happened last month.
Imlie's Aditya aka Gashmeer Mahajani OPENS up on romancing costar Sumbul Touqeer Khan who's half his age
Fans also compared the raising of the toast to scenes from Vincenzo. The Korean series is a bumper hit on Netflix.